This Page:
About my music
Biographical note
Professional vitae
Contact
Lists and links to online items to read, hear, or play:
Musical works
Writings about music
A FreeMind map of my work
Some reviews

A new CD from Material Press

RENEWABLE MUSIC: a weblog about new music & much more.

Miscellany:
About the Gravity Resistors' Pension Fund Orchestra
About Xenharmonikôn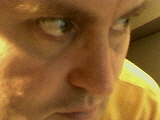 ...the compositions of the Californian Daniel Wolf seemed positively florid: he opened up the first emblems of the very same association spaces that the other composers of this evening steadfastly rejected... or led into error. What he appeared therefore able to secure, without having to resort to populist actions, was the undivided attention of the public. The tension-filled oscillation between attraction and construction is the qualitative feature of his pieces: they grab through harmonic (Planxty) or timbral and gestural stimulus (Field Study) without allowing these features to dominate the musical events.


-- Thomas Kahlcke, Kieler Nachrichten 19/8/91

***********

...But clearly so with the third in the group, Daniel Wolf. The Frankfurt-based Californian is namely a highly intelligent tightrope walker, who understands how to maintain balance with instinctive sureness. Wolf prefers to work with stylistic citations, which he infiltrates structurally. And out of the oft only hair-thin break between the citated and the deviated arises the "sense" of his music. In the pseudo-romantic duo, In Bregaglia, for example, violin and piano follow one another in tiny displacements.

Or in the string trio Figure & Ground... ...it is a kind of suite, a loose series of five movements, each with one theme. There is, for example, a Lamento, whose target is -- intentionally -- only so slightly missed through the prescribed intonational impurities. Or a Passacaglia, that somehow sounds out of the Renaissance, but whose single voices slip by one another a bit and whose ostinato varies "against the rules" in length and range.

-- Thomas Kahlcke, Kieler Nachrichten 17/10/94

***********

The concert featured three works represent brutally uncompromising, hard core minimalism devoid of any euphonious niceties often associated with that movement. First on the programme was Prose Anthology: Distinctions/Connection by Daniel James Wolf, an American composer born in 1961 and based in California. Wolf's music -- and he admits to being influence by Greek music, Viennese classicism and American experimental tradition -- makes striking use of contrasts and opposites. Slow, quiet sections or movements where long rhythmic values and tight dissonant harmonies abound, give way to pointillistic, polyrhythmic or motoric segments in which high energy creates an impression of aggressive impatience.

-- Piotr Grella-Mozejko, Review of the Festival of Flanders in

The Alberta New Music and Arts Review

, 2002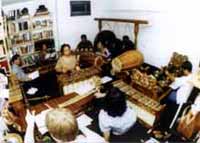 Sounds articulate precise dimensions in physical space; musical sounds also articulate precise dimensions in social and private spaces.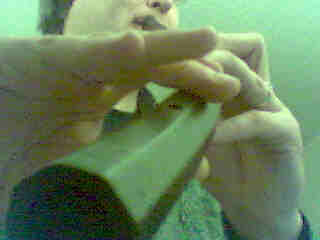 History is both a playground and a minefield, and a composer writes and rewrites music history with reckless disregard for the difference between a playground and a minefield.
-- Daniel Wolf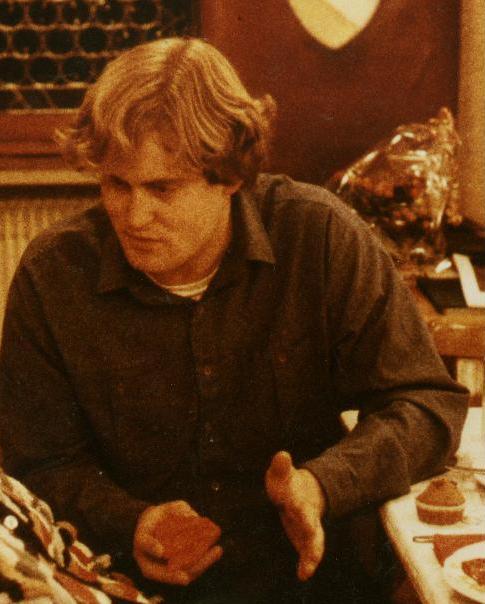 I was born on September 13, 1961* in Upland, California. A fifth generation Californian on my father's side, I was raised in the desert and mountains of southern California, and the views up to Mt Baldy or across the desert from the hills above Cathedral City have never left me or my music. On my mother's side, the immigration from Europe (Ireland, Holland) was more recent, and the family has never lost touch, so moving to Europe has been as much about returning as it has been about discovery. In Europe, the "american-ness" of my music is always singled out while in America, it's the "european-ness" that gets remarks. I think that this ambiguous, "mid-Atlantic" quality is as much due to the way in which I compose from first principles as to any accidents of surface similarities.
* Rebo Pahing, if you keep up with Javanese weton; if you don't keep up with Javanese weton, you might be interested to know that I share the birthdate with Arnold Schoenberg.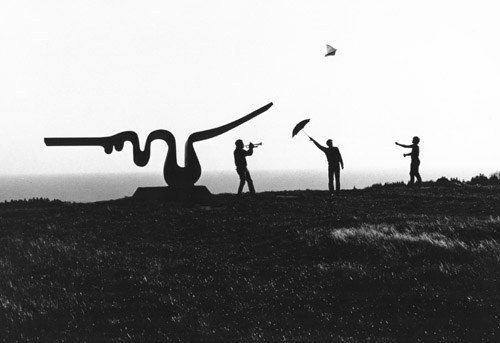 David Cope (trumpet), Steed Cowart (bumpershoot), Daniel Wolf (kite), April in Santa Cruz 1983
I carry a full set of academic or professional traveling papers:
BA (Music), UC Santa Cruz; MA (World Music), PhD (Ethnomusicology), Wesleyan University. Composition study with Gordon Mumma, David Cope, Alvin Lucier, La Monte Young. Studies in musical tuning with Ervin Wilson & Douglas Leedy, instrument building with Charles Chase. Studies in poetics and mythology with N.O. Brown .
Free-lance composer and writer in Frankfurt since 1989 (with five years away, from 2000-2005 in Budapest, Hungary.) Over 50 performed works for diverse media. performances in the US, Mexico, Germany, Belgium, Austria, Switzerland, Denmark, and Japan. Commissions by the Connecticut Council on the Arts, Paul Sutherland, Susan Matheke, Hildegard Kleeb, Roland Dahinden, the Federal State of Schleswig-Holstein. Twice awarded first prizes in composition in the John Child Walker competition, recipient of a prize stipend from the Frankfurter Verein für Kunstlerhilfe, U.C. President's Undergraduate Fellowship, and an anonymous traveling scholarship.
Maker of long-duration sound installations with exhibitions in the US, Germany and Switzerland.
Extensive critical and theoretical writings on musical intonation and speculative music theory, especially the interaction between tuning systems and tonal musics, 20th century and American experimental music, ancient Greek and Hellenistic music, mannerism, Viennese classicism, Southeast Asian musics. Organology. Ethnomusicological fieldwork in central Mexico, Ireland, Suriname, central Java, Germany and southern California.
Member of the Gravity Resistors' Pension Fund Orchestra, 1980-present.
Editor, XENHARMONIKON (a journal of new music and intonation sytems), 1985-89.
Curator, Folk Music Center Museum, Claremont (1979-89)
Music Curator, Real Art Ways, Hartford, CT (1985-86)
Guest Curator, Ontario (California) Museum of History and Art (1989).
Research Assistant to Prof. John Hajdu (J.-B. Lully: Sacred Motets).
Teaching Assistant to Profs. Linda Burman-Hall (theory and musicianship), Neely Bruce (music history survey), and David McAllester (ethnomusicology).
Studied Gamelan with Undang Sumarna, Sumarsam, I.M. Harjito, Ki Suhardi, Heri Djajasumadi, and Oemartopo. Instructor, Javanese Gamelan, Museum für Volkerkunde, Frankfurt. Member, Gamelan Orchestras WACANA BUDAYA, Frankfurt, and TOPANG BANG, Budapest.
Co-founder, with Hauke Harder, MATERIAL PRESS .
Additional interests: instrument building, classics (of late: Parmenides, Euripides, Ovid, Seneca), 20th century fiction (Pynchon, Joyce, Nabokov, Abish, Broch, Gaddis, Percy), puppetry, cooking (Mexican and Southeast Asian), the movies (not film) and croquet. My musical work owes a large debt to visual artists, especially Duchamp, Magritte, De Maria, Turell, Irwin.
Married to Christina Sheneman, one son, Séamus (born 1993), daughter Emma (born 2002).
To the Material Press

Page
The background image of this page is taken from the score to FIELD STUDY for violin, trombone, banjo, & guitar. Copyright (c) 1991 by Daniel James Wolf, published by Material Press.