Orca: A whale or a dolphin ?
Orcas are also called "killer whales". They are big, up to 30 feet or 10 meters. Orcas belong to the big family of whales. The family is also called CETACEANS. The whale family is devided into two suborders: the BALEEN WHALES , like the humpback whale or the blue whale and the TOOTHED WHALES. The Orca is a member of the toothed whales family. In this family we find different kinds of DOLPHINS, RIVER DOLPHINS, PORPOISES, and BEAKED WHALES. Orca Willy is a relative of Flipper. Flipper belongs to the species of BOTTLENOSE DOLPHINS and they are actually small toothed whales ..... complicated?
Nooooooooooo !!!
EVERY DOLPHIN IS A WHALE (CETACEAN) , BUT NOT ALL WHALES ARE DOLPHINS !!!
---
So: Orcas are the biggest dolphins we know. Their closest relatives are the PILOT WHALES.
---
THE DOLPHIN DICTIONARY:
BALEEN WHALES
BOTTLENOSE DOLPHINS
BEAKED WHALES
CETACEANS
PILOT WHALES
PORPOISES
RIVER DOLPHINS
TOOTHED WHALES

---
What is ...
The baleen whales get their name from the long, fingernail-like material that comes down from the roof of their mouth and which serves as a filter system when they eat. They eat krill (tiny shrimplike creatures) by taking a huge mouthful of krill and sea water and then forcing the water back out through the baleen. Most species of baleen whale are endangered.
---
What is ...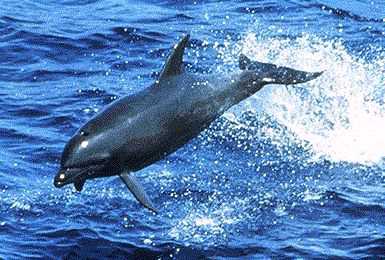 Bottlenose dolphins like Flipper love the open sea as well as coastal waters. There are some places in the world where bottlenose dolphins come close to the beach to play with humans.
(MORE INFO ON BOTTLENOSE DOLPHINS)
---
What is a ...
The Beaked Whales family contains 20 different species. They are shy and rare and therefore not easy to find: That's why we don't know much about them. Some beaked whale species are only known because they have been found beached. They are TOOTHED WHALES and have only one or two teeth. They like the deep waters. .
---
What are ...

"Cetacea" is the scientific name for the order containing all the whales. They may look similar to fish but they aren´t fish. Cetaceans are mammals, mammals who live in the sea. They feed their babies milk, and they breath air just like you and me. All cetaceans have a horizontal tail with two tail "flukes".
---
What is ...
Pilot whales usually live far out where the ocean is deep. But sometimes they come close to an island, when the waters are deep and food tastes good.

This happens at the Canary Islands in the Atlantic ocean. The pilot whales are very friendly and curious.

With your ears under water, you can hear their clicks and whistles.
---

Porpoises are the smallest toothed whales, but they are not dolphins. Their teeth are usually spade shaped whereas dolphin teeth are cone shaped. They are more shy and rarely come close to humans. The porpoises are often victims in fishing nets.
---

River dolphins live in the Amazon River in South America, in the Ganges River in India, and in the Yangtze River in China. River dolphins are also called freshwater dolphins.
---
| | |
| --- | --- |
| Toothed whales use their teeth to catch fish for food. The biggest toothed whale is the sperm whale. Spermwhales communicate by using clicks. | Spermwhale - Physeter catodon(macrocephalus) Click here, to listen to clicking spermwhales |
| | The beluga white whale lives in arctic regions. Different species of RIVER DOLPHINS live in the Amazon River, in the Ganges River, or in other big rivers. There are more than 30 species of dolphins, including the orca, the PILOT WHALE and the BOTTLENOSE DOLPHIN . |
---