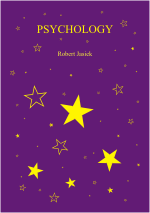 Psychology
Review by the Author
General Specification
Title: Psychology
Author: Robert Jasiek
Publisher: Robert Jasiek
Edition: 2020
Language: English
Price: EUR 16 (book) or EUR 8 (PDF file)*
Contents: psychology
ISBN: none
Printing: good
Layout: good
Editing: good
Pages: 144
Size: 148mm x 210mm
Diagrams per Page on Average: 3
Method of Teaching: principles, examples
Read when EGF: 15 kyu - 3 dan
Subjective Rank Improvement: ++
Subjective Topic Coverage: o
Subjective Aims' Achievement: ++
Contents
Besides strategy, tactics and evaluation, psychology is the fourth fundamental aspect of go. Although equally important, it is rarely taught. This book fills the gap.

Do you expect academic science, such as empirical field studies, or military wisdom? Neither aspect of psychology is relevant for practical playing. Instead, the book studies the very frequent types of unforced errors - the mistakes that we all make but we should never make. If only we become aware of them at all, we can find the simple, correct play and improve a few ranks quickly.

Psychological mistakes affect connection and cut, life and death, attack and defense, sente and other strategic concepts. We learn to avoid wishful thinking, carelessness, laziness and greed. Finally, the book teaches time management and how to win a won game.

The 180 examples of the most interesting psychological mistakes are taken from actual games of the previous five years. My opponents or I have made the mistakes so that the readers need not repeat them any more. The book uses an easy learning approach. Every example compares failure variations with the simple correct moves. Every chapter has a short, general introduction and one or two simple but powerful principles.

Controlling one's own psychology can be hard but this is the right guide to simplicity and awareness of the relevant aspects.
---