..
.
.
.











..

.

My CD-ROM is available:
Many beautiful Girls wearing shiny Rubber Catsuits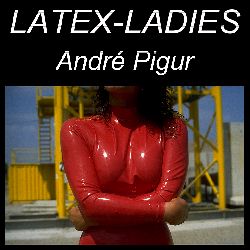 .
.
I am André Pigur,
Foto-Designer and Foto-Artist in Berlin.
Born on 10th of may 1958,
I'm now running my Fotostudio for Advertising and Art Photography !
My Special Fields with samples of my work you can see at PORTFOLIO.
As Freelancer (Member of IG-Medien)
I work for magazines like MARQUIS, HEAVY RUBBER and <<O>>,
where I prefer to realize my own
artful and tasteful Fotoproductions with the subject of
LATEX-EROTICISM, Fetish-Fashion in LATEX.
.
About my Artwork concerning LATEX-EROTICISM
and my Artwork-Philosophy
you can read at LATEX-LADIES.
.
The results of my artwork
- many beautiful shiny girls and shiny ladies in LATEX-Catsuits -
you can find on my CD-ROM LATEX-LADIES,
which you can buy at CD-ROM,
or you can order my artwork here
as handsigned and big sized Artprint-Originals
or have a look on it at my interesting art exhibitions.
Details and Time Schedule at EXHIBITION.
.
At REFERENCES you can find the testimonials of buyers
of my CD-ROM LATEX-LADIES
and a list of pleasent foto-instructors.
I really would appreciate it, if you would sign my new GUESTBOOK.
.
At MODELS can be found great FREE offers for Foto-Models.
If you are already an active model, or if you want to become a fotomodel
and think you are really talented, then you will get all kinds of help and support
with FREE fotoshootings and FREE fotos
which you can use for your
sedcard, portfolio, or your website FOR FREE !
My favourite models from these testshootings will get good fotojobs.
.
You're invited to study my personly details of COOPERATION,
if you can - however - imagine for yourself
some kind of support or cooperation, e.g. as:
foto assistent,
agent,
booking agent,
representative (female),
location scout
or model scout
YOU'RE WELCOME !
.
At CONTACT you'll find all the details to contact me
if you have some kind of professional or personal interests.
.
At LINKS you can find the Links, which I found you should see.
André Pigur - Berlin
Member of 'Verdi'