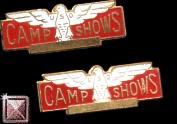 When DIETRICH departed for 'Destination Unknown' her 55 lb baggage allowance comprised the following: tropical uniforms; boots; grey flannel men`s trousers, transparent Vinilite slippers; silk-lined cashmere jumper by Mainbocher; lingerie; a strapless brocade dress and two long, seguined gowns in white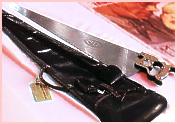 and gold. The dresses were heavly encrusted with beads that no crease would show.
MARLENE also carried her singing saw in a black leather case; three month' supply of cosmetics; labelled in huge nail-pollish letters (for dressing by torchlight), and supply of special soap for the hair that she had had specially made, and which would lather in practically no water.
These USO Shows teached DIETRICH how to manipulate audience, time her laughs and deal with hecklers. During her time with the forces, the whole way in which she presented herself as a performer underwent a change.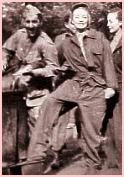 This could been seen not only in the self-deprecating humour with which she quitly derided her glamour image - something that she has retained until her later great appearences, as in her famous dismissal of her glamour and mystery as 'kitch' and 'quatsch' - but in her very delivery of the Songs.
DIETRICH contracted pneumonia in Italy in 1944, and in the Ardennes her hands froze.
Just to remind you all in what a peacefull world we live in ....