In her films MARLENE always paid particular attention on lighting and camera focus. Sometimes she made a last, control view through the lense of the camera before the director calls: 'Camera, Action!' She is terribly terrified to be filmed on profile, since she was not pleased with her own nose. In the 30's and 40's MARLENE had achieved such a high status of fame, which she didn't have to act at all, the films were practically based around her.
At this time MARLENE was one of the highest paid movie actress. The product ' MARLENE DIETRICH ' clear enough for her, once the zelloloid be exposed, it will remained for eternity. There was no light that coincidentally illuminated her, no shadow fell on her advertently, with directors and light man she puzzeled out tricks with light and shadow for a slimmer, more beautifully, more audacity, more mystical, more pale, or simply younger look. But she did this not by any means with alures, or arrogance, on the contrary, she kept the whole crew in good mood during breaks, she nursed illness with pills and cremes. When it becomes late, she cooked good old chicken soup, made coffee and even washed dishes. If any member on the set had birthday, DIETRICH arrangses a large surprise cake.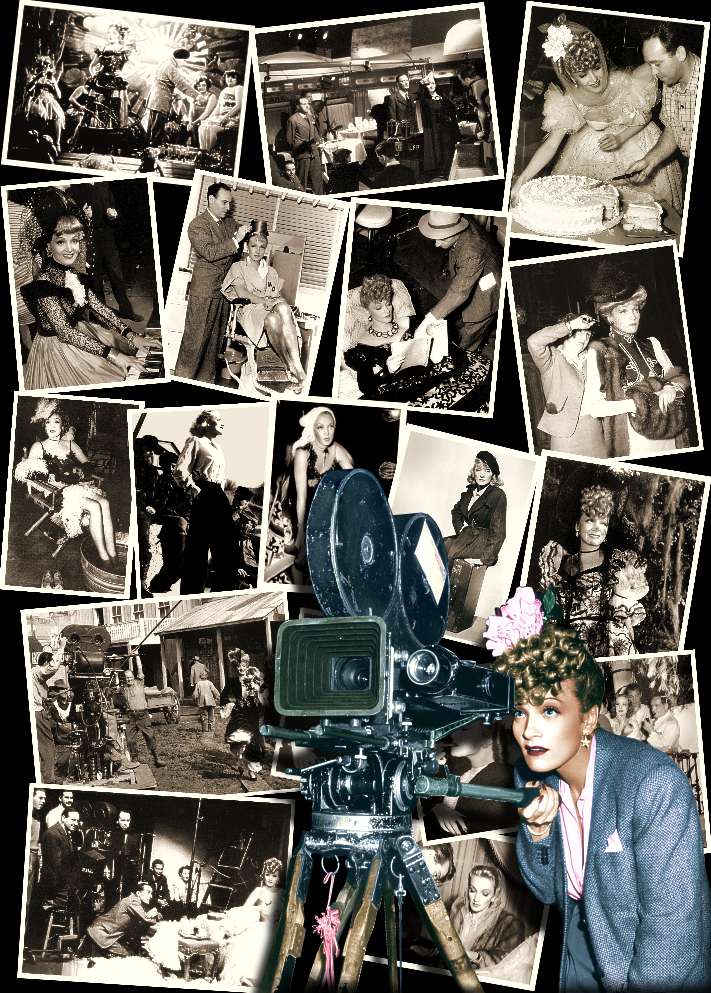 The costumes of MARLENE were very complex tailored. In the 40's, Designers like Rene Huber and Vera West overdone themselves creating the complete wardrobe for 'The Flame of New Orleans' and 'The Spoilers'. Exaggerated frills, huge hats with feathers and boas. Banton, Irene, West and Huber put MARLENE into enormous hoop skirts and overloaded her with accessoires, Hollywood was derideing her, called her a 'hat and coat stand'.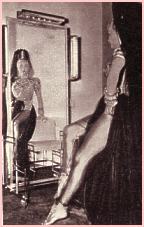 After two propaganda films she was allowed to occur before end of war in a new costume film, a fairytale epos. MARLENE dances for the first time as a oriental beauty and shows not only the magnificent beaded costume creations of Irene, but also much skin. Golden teint! With gold bronze painted legs she rolls seductively before the camera. 'Jamilla' seduces, who she ever wants to. Four coats of poisonous gold paint dayly gilded her from hip to toe, taking hours to apply, inducing hyppothermia and removable at the end of each day's shooting only with wood alcohol, but left over a shade of green on her famous gams. For the wild dancing scenes MARLENE let herself doubled, how ever concentrated on her close-up's.
Although, one could not deny the reality of the gone years, MARLENE turned 42? With clecer tricks of Mr. Sydney Guilaroff, MGM hair-styist, glued-on her wigs to created a kind of temporarly face-lift before the cameras. This exotic hairdo was twisted, braided, roped, swirled with touches of gold dust.