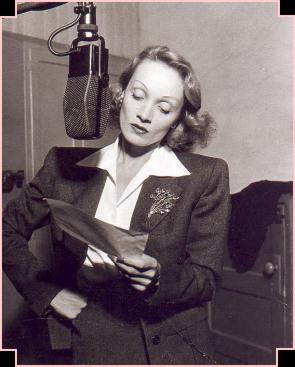 I am always pleased to hear from DIETRICH admirers from all over the world.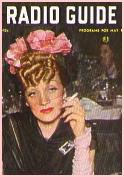 She has not been forgotten, and there is still tremendous interest in MARLENE DIETRICH's recordings. I myself have had numerous enquiries recently, ever since I put some 'RARE RECORDINGS' on the Collector's Stuff pages. Unfortunately there are very few precise details and virtually no literature available about all these rarities.
MARLENE's music CDs can be obtained everywhere in good record stores and worldwide on the Internet. However there are also rare recordings which are nowadays either unavailable or very difficult to come by.
There are, of course, endless reels of tapes scattered all over the world, lying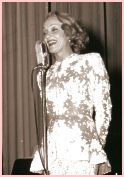 round in many of the large record studios and radio stations, just waiting to be discovered. This was only to be expected in view of MARLENE DIETRICH's long and interesting life and great singing career.
Her radio appearances number well over 40, ranging from short star guest-spots to full-length radio plays and series. Moreover there are TV appearances in many countries, interviews at almost every concert, tape recordings, telephone calls, and over 40 unpublished songs.
Here is some information about these rare recordings.






"MARLENE DIETRICH RADIO RECORDING"

"Radio. A great Medium; and I won't let anyone bury it yet"
(M.Dietrich 1961)
At the beginning of the forties many MARLENE films were also re-recorded as radio plays, such as: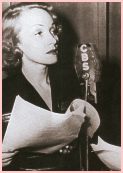 | | |
| --- | --- |
| 'The Legionairs and the Lady' | Morocco (June, 1936 CBS) |
| 'Song of Songs' | (Dec, 1937 CBS) |
| 'Desire' | (March, 1937), |
| 'Manpower' | (March, 1942) |
| 'Pittsburg' | (April, 1943) |
| 'A Foreign Affair' | (1949) |
| 'A Foreign Affair' | (1951) |
| 'No Highway in the Sky' | (April, 1952) |
Even films in which MARLENE had not appeared were recorded for the radio audience with her in the starring role, for example the Greta Garbo classic 'Grand Hotel' (1948 ABC) and 'Anna Karenina' (MGM). MARLENE spoke and sang in:


| | |
| --- | --- |
| 'Hollywood Premiers', | (1941) by Loella Parson |
| 'Rudy Vallee Show' | (~1941) |
| 'A.F.R.S.Command Perform.', | (1942) with Al Jolson |
| 'Texaco Star Theatre', | (1942 CBS) with Fred Allan |
| 'Chesterfield Supperclub', | (1944 NBC) with Perry Como |
| 'The Lady from the Sea', | Phillip Morris Playhouse |
| 'Ed Sullivan Show', | MD Interview |
| 'The Letter', | (1948 ABC) |
| 'General Electric Theater', | (1948 CBS) |
| 'Hail and Farewell', | (1948) Last USO Performance |
| 'Arabesque', | (1948) |
| 'Madame Bovary', | (1948) |
| 'The Big Show', | (1951+1952) |
| 'Café Istanbul', | (1952 ABC) |
| 'The Bing Crosby Show', | (1952) |
| 'Time for Love', | (1953 CBS) |
| 'Bob Hope Nighttime Radio Sh.', | (1954) |
| 'Dietrich talks on Love and Life', | (1958) |
| 'The Mirror', | (1956) |
| 'The Child', | (1965 BBC) |

Here some radio recording :

'THE BIG SHOW' 1951 Tallulah Bankhead (240 KB)

'THE BIG SHOW' 1951 Tallulah Bankhead and Marlene (111 KB)

'THE BIG SHOW' 1952 Tallulah Bankhead and Marlene (146 KB)
.

THE BING CROSBY SHOW' 1952 Bing Crosby (122 KB)

'THE BING CROSBY SHOW' 1952 Bing and Marlene (176 KB)

'THE BING CROSBY SHOW /CAFE ISTANBUL' 1952 (171 KB)
.

"MARLENE DIETRICH RARE RECORDING"

From the sixties onwards there are many interviews, including ones in Brazil, the United States,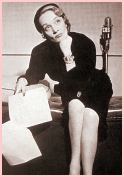 Great Britain, Belgium, France, Denmark, East and West Germany and also Sweden. MARLENE's tours encompassed almost the entire globe and she made studio recordings everywhere. As early as 1933 she recorded 'Ton Regard' in French in Paris . In Josef von Sternberg's classic 'The Devil is a Woman' a second song 'If it isn't pain, Then it isn't Love' fell victim to the censor in the final version in 1934 . In Washington in 1944 she belted out German versions of 'The Boys in the Backroom' (Ja gib doch den Maennern am Stammtisch ihr Gift), 'You Got that Look' (Du hast 'nen Blick) and Carmen Miranda's 'South American Way' (Nein Ich Heirate nie).
MARLENE recorded a number of German songs in New York in 1954:
'Aus der Jugendzeit',
'Am Brunnen vor dem Tore'
'Nun kam die Erntezeit' and
'In einem kuehlen Grunde'.
These, along with the recordings made in London in 1955:


'Let's do it',
'All of me'
'I am a Camera'
'Wot cher, Knocked 'em in the Old Kent Road',
'Qui me Delivera',
'Moon River' and
'Land Sea and Air' as a duet with Noel Coward from the Variety Show 'A Night of the Hundred Stars', did not appear on record. There is a privately recorded tribute to Mitch Leisen 'See what the Boys in the Darkroom have done' MARLENE taped it for his birthday.

In May 1954 MARLENE finds herself in the Radio Records Studio on Santa Monica Boulevard in Hollywood with Rosemary Clooney and sings six songs in a duet with Rosie!






Recording of Marlene and Rosie :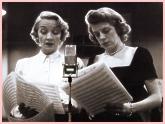 'Dot's nice Donna Fight',
'It's the same',
'Land Sea and Air',
'Besides He's a Man',
'To old to cut the Mustard',
'Good for Nothing'.
These songs are only made public in 1997, more than 40 years later, in the Rosemary Clooney 7 CD Box (BCD 15 985GK) on the 'Bear Family Records' label, apart from the Clooney-Dietrich EP 'Good for Nothing' (Columbia B-1699). And the list goes on and on: in 1959 in Rio de Janeiro's Copacabana Palace Hotel, in the 'Golden Room' she sings 'Luar do Sertao' in Portuguese. In 1961 in Chicago: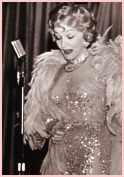 'You gotta see Mama every Night',
'Till there was you',
'Happiness is just a Thing called Joe'.
In Las Vegas and London songs are again recorded, never to be released:
'I Refuse to Rock'n Roll' in 1955 from the film 'Meet me in Las Vegas'
'Nice and Easy',
'Don't take your Gun to Town' in 1959 and
'My Baby just cares for me' with Burt Bacharach's racy orchestration. In 1962 she sings 'My Baby', also in Paris. In 1967 Bacharach arranges 'Everyone's Gone to the Moon' for MARLENE. In London's 'Golders Green' she sings it live for the first time, and recordings are also made. Then 'Sentimental Journey' in the auditorium of the Queen's Theatre in the 1970s, never publiched - wonder why? But also here candid recording by her fans!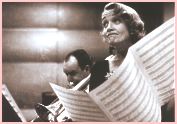 There then follow songs such as 'Don't smoke in Bed', 'C'est si bon' and 'Moonriver' in English and French. Her pert, impudent androgyny and earlier bisexuality, which found expression in her lyrics, no longer fitted the image of a legend and certainly not that of "the most beautiful grandmother in the world". Her perfectionism could probably not permit these spontaneous live versions to be released, and so they were locked away for many years, probably for ever?

MARLENE once said:
"Dahhlink at that time, you know,
I didn't sing any serious songs, I was just'ahhh entertaining everybody and being beautiful, hmmm something like that, I think I am much better nowww.!" .

Here some very rare hidden songs :

'ICH HEIRATE NIE' Studio recording 1945 (139 KB)

'MY BABY DON'T CARES FOR ME' Paris 1962 (630 KB)

'LET'S DO IT, LET'S FALL IN LOVE' Paris 1962 (166 KB)

'YOU'VE GOT TO SEE MAMA...' Chicago 1961 ( 86 KB)

'WHEN I'M NOT NEAR THE MAN...' Vegas 1955 (241 KB)

'I REFUSE TO ROCKIN ROLL' Vegas 1955 (92 KB)
Thus perfect studio recordings were made and these were then mixed with original MARLENE applause, which she often had recorded on tour, and even put on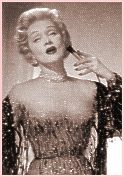 record. These recordings then ended up in the shops as "MARLENE live!"
Today they are back, as CDs. In 1992 the CD 'ON SCREEN STAGE AND RADIO' (CD6006-6007) was released by 'Legend Records'. It includes many soundtrack songs and some excerpts from Tallulah Bankheads 'Late Show' in 1951 and the 'Bing Crosby Show' in 1952, with humorous dialogues and a duet with Bing, 'La vie en Rose'. In the David Hemming film MARLENE sung 1979 the title song 'Just a Gigolo'. This was to be the last time she recorded a song.
MARLENE became 'invisible', 'untouchable', but by no means silent! There are many late recordings. In 1982 Maximilian Schell spent several days in conversation with MARLENE in her apartment in Paris, the result of which was a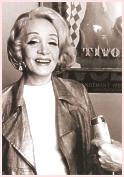 90-minute documentary. MARLENE spoke repeatedly and energetically about the politics of the day. When in 1991 the former UFA studios (The Blue Angel) in Potsdam were to be closed and hundreds of workers were threatened with dismissal, MARLENE fought to keep the DEFA Studios open and gave a live interview on a program on the main German television station. MARLENE made a further public call to French radio when the Berlin wall fell.
DIETRICH greeted the audience and opened the 'Moulin Rouge Revue' in Paris from tape. She recorded a German and an English prologue for German rock singer Udo Lindenberg's songs 'Wenn ich mir was wuenschen duerfte' and 'Illusions' (Hermine, 1987 Poydor 835197-2Y).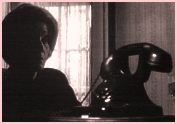 Those who think that MARLENE never sung again from then on - think again! Whenever a friend mentioned a song to her or asked her about a particular number, or she herself was searching for a few lines which had slipped her mind, she would even sing over the phone and thus knew all the lyrics of her long career by heart. No one dared to interrupt her nostalgia, perhaps also only because a tape recorder was once again whirring secretly in the background ...