What becomes a mink coat most ? A legend, of course. That's how Jane Trahey's agency saw it. "Don't focus on the mink," said Jane Trahey, who convinced the concept, "but what's in it." And into these minks they put the most legendary faces, bodies and talents of our time, like Lauren Bacall, Bette Davis, Judy Garland, Joan Crawford, Lena Horn, Marlene Dietrich, Rita Hayworth, Rosalind Russel, Maria Callas, Barbra Streisand, Claudette Colbert,... and had them photographed by Richard Avedon.

And for every one of them is a story, told by Peter Rogers looking behind the scenes of our most admired woman. This series of photographs were - and - are so beautiful that they are coveted by collectors all over the world. Here is what Peter Rogers said about MARLENE DIETRICH.

"WHAT BECOMES A LEGEND MOST" 1969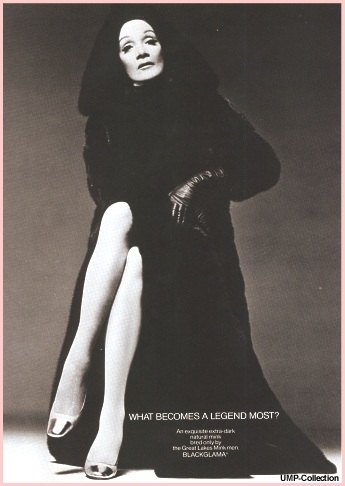 After the first twenty-five Blackglama coats and capes I'd sent to miss DIETRICH's apartment where rejected, I decided to present the next three in person. Surely I could sell her on posing in one of them!
I arrived and rang the bell, and the door opend about an inch. "I'll show these to Madame, " a heavily accented voice informed me. A woman yanked the coats from my hands and slam the door in my face. I waited in the hallway, feeling as though Speedy Messenger Service that just told me I was through.
Moments later, all three coats were handled back along with their carrying box. I packed them up and returned to Maximilian, feeling certan that this photo session was never meant to be.
Somehow Richard Avedon convinced DIETRICH that it wasn't the coat but the legend in it we hoped to capture. Amazingly, she agreed to pose.
Three cancellations later ( sessions called on account of rain), she arrived at the studio in her own limousine, already made up and ready to go.
" Dahlink, bwing me a miwwoh. "
A enormous mirror was produced instantly. Standing, peeping into it, she personally arranged every hair on that coat until the image was right.
"Now," she commanded. Avedon clicked.
"Bwing me a stool." It was done. Seated MARLENE rearranged her fur, crossed her legs and pulled the coat back to reveal those famous limbs.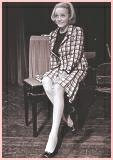 Her agent gasped. I gasped. I think even Avedon was surprised. Later the agent told me she'd been offered $ 150.000 to pose for a hosiery ad just three days earlier and had refused.
When the session was over, I thanked her and told her how exciting the shooting had been for us, especially since we'd gotten the beautiful legs.
"Dahlink," DIETRICH told me "the legs aren't so beautiful. I just know what to dohh with them..."



Peter Rogers for 'What Becomes a Legend Most ?' 1979

---

"ALL OVER THE WORLD BOAC TAKES GOOD CARE OF YOU"

British Overseas Airways Corporation

'All Over The World BOAC Takes Good Care Of You ' BOAC VC 10

---

"AIR FRANCE BAGGAGE SERVICE IS DIVINE!"

She's not exaggerating. Our baggage service is fine - even divine.
AIR FRANCE advertising 1962


---

'FOCAL POINT OF SUCCESS'

LUXOR Toilet Soap advertising Germany /Austria 1953

---

"I SMOKE A SMOOTH CIGARETTE - LUCKY STRIKE!"

C

igarettes were an essential feature of DIETRICH's screen persona, and featured in the plot devices of so many of her films that it is a surprise to find photographs of her not holding a cigarette. Where ever she went, DIETRICH was seen smoking. In the 1960s DIETRICH had a bet with Noel Coward and gave up smoking, but she continued to encourage other people to defy the anti-smokers.

'THERE'S NEVER A ROUGE PUFF IN A LUCKY!'

MD says:"I smoke a smooth cigarette-Lucky Strike!"

'There's Never A Rouge Puff In A Lucky!'

LUCKY STRIKE Cigarettes advertising 1950

---

'LISTEN TO ABC!'

Enjoy yourself every Sunday on ABC
American Broadcasting Company
Advertising from 1948

---

"MY BEER IS RHEINGOLD - THE DRY BEER"


You can rely on it... i`'s always beer as beer should taste ! 1951

It's beer as beer should taste - DRY tells you why!

Rheingold Extra Dry Lager Beer advertising 1946


---

"THE PEERLESS DIETRICH!"

WOODBURY Complete Beauty Creme ... Is all you need!
Another Hollywood Star ... with Woodbury-Wonderful Skin.

For Skin to make men look twice

WOODBURY Face Cream advertising 1945

---

"WANT ROMANCE?"

'9 of 10 Screen Stars use Lux Soap'

"Want Romance ? Then don't neglect Complexion Care !"

LUX Toilet Soap advertising March 1942

'It's easy to make daintiness SURE- just use Lux Soap for a luxurious daily beauty bath "



LUX Toilet Soap advertising December 1942

---

'THE NEW SIDE OF SMOKING'

MARLENE DIETRICH - 'The German Star on the trip back to America on board the 'Bremen'. REGIE-III.SORTE Cigarettes Austria, GMBH Munich.

Cigarettes advertising 1934

---

'THE EARLY 1920s'

MARLENE did already some advertising photo-sitting in Berlin for fashion, records, shoes and department store catalogues in the golden twenties. (1925/ 1927)