The Girl of Silence
aka Fazafakka (Father Fucker)
A teenage girl, raped by her stepfather, finds security in an imaginary world.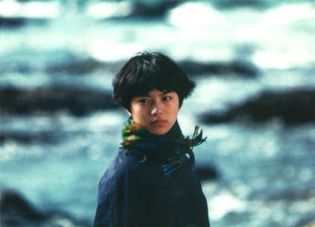 1968: 14-year-old Shizuko lives in modest conditions with her mother and little sister, when one day, along with a new refrigerator, comes a new father, Ryoji, into the life of the family. Although he only visits twice a week he makes the women his own, in true text-book patriarch style: from the strict, pedantic upbringing, to Shizuko's body, as he finds an excuse to "punish" her for getting pregnant by a fellow pupil.
Although Ryoji forbids Shizuko to realise her dream of becoming a manga (comic) artist, he forces her through two years of his attacks, to train her mind to that of an imaginary alter ego in the form of a boy. He gives Shizuko new strength whenever she tries to defy her stepfather and has to suffer his reprisals.
Ryoji is a man who earns well and likes to rule the roost. He uses his position of power to force his ideals, without feeling, onto other people, especially women. Well dressed, following every rule of ettiquette to the absurd extreme, at home he attacks Shizuko like a wild animal: he treats her, in fact, as he would treat no animal, not even his fridge. Thus his ability to love is frozen, and he can only abuse.

Whilst in other films the mothers cannot believe what their husbands are doing to their children, or hope for an imminent improvement, this film, based on the autobiography of manga artist Shungiku Uchida portrays family structures more clearly. The mother knows full well what is going on and does not even bother to hope for better times. She will explain to her daughter that the doctor was unable to abort Shizuko's baby after five months' pregnancy, and that step-father's sexual violence is intended to induce the baby to come out of its own accord. When her daughter asks if that is why he sucks on her breast, the mother replies that he is a man, and such things naturally excite him; thus she brings to light the reasons for her behaviour. The strongest feeling she has for Shizuko is jealousy.

In such conditions it is even more remarkable how tirelessly Shizuko works for a better future and that she has the power to tear down her imaginary world, even after it has cost her so much to build it up. The Girl of Silence is a film of great audiovisual stimulation, not least in these scenes.

A stirring film, superbly made for cinema, based on a longseller which has been shocking the Japanese nation since as far back as late '93, does not guarantee instant release, at least not in Germany, although it played at the '96 Berlinale Forum with success.
ki, Berlin
translation: andrew
copyright: Queer View April 1997