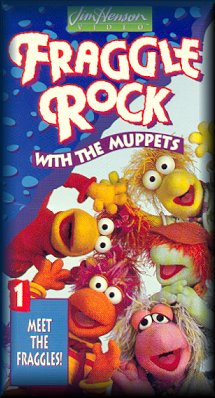 Beginnings &
A Friend In Need
1993, Color, Running Time 52 minutes, Tape is boxed as beyond

Beginnings :

Explore the secret world of FRAGGLE ROCK and meet all the colorful characters who call it home. GOBO is the leader, the explorer, an adventurer through and through. RED is an athelete and very quick, a whirligig of nonstop energy. WEMBLEY is a good friend to everybody, but he can't make up his mind. DOOZERS are teeny tiny creatures who have only one thing on their mind - working. GORG family lives in a castle tower and farms the land with radishes - the Fraggles' favorite vegetable.

A Friend In Need :

Even though the Fraggles think Doc's dog Sprocket, is a monster, Gobo braves the Land of the Gorg to help him out of a tight spot !