Fraggle Rock - Information


All copyrights for characters and
names by Jim.Henson.Company
I hope my english is not too bad - so if anybody, who had to read this notices failures : please let me know....


The »Fraggles« are a part of the Muppet family
andowned by the Jim.Henson.Company. The
plush dolls you see on these sites were produced
during the 80's by Hasbro, Tomy, Pedigree and
others.

They haven't been sold anymore since 1985. So
right now they are only collectors stuff and there-
fore hard to find. One may be able to buy some
Fraggles from American or Canadian collectors,
at markets or second hand toy stores - or from us!

It is almost impossible to get them here in Europe,
and even then the prices are too high. The transfer
of the dolls to Europe costs about 10 USD, and,
depending on the quality of the doll and the manu-
facturer, the prices start at 30 USD.
Frequently asked questions :


| | |
| --- | --- |
| Where can I buy Fraggle things today ? | I'm shure : Nowhere. |
| Are there VHS-Videotapes of the serie ? | Yes, but only in english. |
| Will the serie get restarted on TV ? | Only Henson knows. |
| Can I find soundfiles somewhere on this site ? | Sorry, not enough space |
| Are there other sites, that are worth to visit ? | Yes, click on pix below |
| Who is the guy behind the store ? | Click on the green Monster below !! |
| | |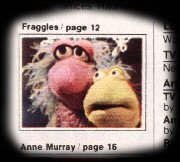 Other Fraggle.Linx