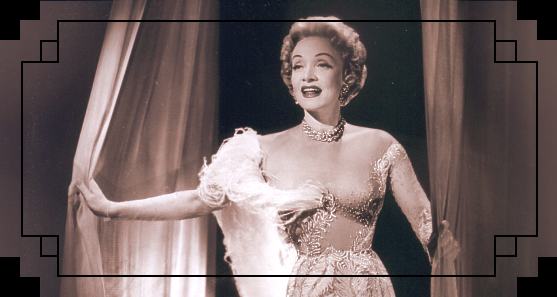 DIETRICH, a trouper, a survivor, a bold goer
where no woman had gone before......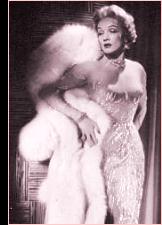 She swept on to the stage in a skin-tight dress of mering silver in a monumental swans down coat that trailed behind her like the wake of a galleon.
She was the epitome of glamour and sophistication – a glamour that was accentuated when sometimes she dressed in a top hat and tails and sang love songs to woman. Whichever sex she was on any given night, she would bend low in a stately bow to accept the applause that she regarded as hers by right. MARLENE DIETRICH was about to start another performance of her famous stage show.
With this let's follow the footprints of our diva on worldwide stages....
"In Films there are too many people, too many tangibles. Here, on stage, I know whom to blame. And I can be myself. Nobody cuts, dubs or edits me afterwards." MARLENE DIETRICH
MARLENE's World Tours and Stage Performances: *1953 - 1960*
| | | | | |
| --- | --- | --- | --- | --- |
| | Dates | Place | City | Country |
| | 15.12. - 4.1.1953 | Sahara Hotel Congo R. | Las Vegas | USA |
| | 21.6. - 18.6.1954 | Cafe de Paris | London | BG |
| | 1954 | Sporting Club | Monte Carlo | Monaco |
| | 15.10. - 4.11.1954 | Sahara Hotel Congo R. | Las Vegas | USA |
| | 30.5. - 117.1955 | Cafe de Paris | London | BG |
| | 17.7.1955 | Opera House | Blackpool | GB |
| | 4.11. - 31.11.1955 | Sahara Hotel Congo R. | Las Vegas | USA |
| | 11.1957 | Tropicana Blue Room | Las Vegas | USA |
| | 14.2. - 7.3.1957 | Sands Copa Room | Las Vegas | USA |
| | 28.1. - 24.2.1958 | Sahara Hotel Congo R. | Las Vegas | USA |
| | 2.1958 | Miami Beach | Miami | USA |
| | 9.6. - 7.7.1958 | Cafe de Paris | London | BG |
| | 12.5. - 8.6.1959 | Sahara Hotel Congo R. | Las Vegas | USA |
| | 27.7 - 2.8.1959 | Copacabana Palace | Rio de Janeiro | Brasil |
| | 8.1959 | Teatro Central | Santiago de Chile | Chile |
| | 4.8. - 9.8.1959 | Teatro Record | SaoPaulo | Brasil |
| | 12.8. -15.8.1959 | Gran Teatro Opera | Buenos Aires | Argentina |
| | 18.8.1959 | Victoia Palace Hotel | Montevideo | Uruguay |
| | 27.11.1959 | Teatre de l'Etoile | Paris | France |
| | 3.2. - 23.2.1959 | Sahara Hotel Congo R. | Las Vegas | USA |
| | | | | |
| | 26.2 - 13.3.1960 | Harrah's | Lake Tahoe Nevada | USA |
| | 3.5. - 5.5.1960 | Titania Palast | Berlin | Germany |
| | 7.5.1960 | Opernhaus | Hamburg | Germany |
| | 9.5. - 11.5.1960 | Tivoli | Kopenhagen | Danmark |
| | 11.5.1960 | | Oslo | Norwegen |
| | 12.5.1960 | Park Avenue Theater | Goeteborg | Sweden |
| | 13.5.-14.5.1960 | Berns | Stockholm | Danmark |
| | 16.5.1960 | Schauspielhaus | Duesseldorf | Germany |
| | 19.5.1960 | Ufa Palast | Koeln | Germany |
| | 20.5.1960 | Kurhaus | Bad Kissingen | Germany |
| | 21.5.1960 | Theater am Aegi | Hannover | Germany |
| | 22.5.1960 | Rhein-Main-Halle | Wiesbaden | Germany |
| | 23.5.1960 | Kurhaus | Baden Baden | Germany |
| | 24.5.1960 | Konzerthalle | Zuerich | Switzerland |
| | 25.5.1960 | Liederhalle | Stuttgart | Germany |
| | 27.5.1960 | Deutsches Theater | Muenchen | Germany |
| | 30.5.1960 | Tuschinsky Theater | Amsterdam | Holland |
| | 17.6.1960 | | Tel Aviv | Israel |
| | 17.6. -26.6.1960 | | Jerusalem, Haifa | Israel |
| | 12.7. -15.7.1960 | | Madrid | Spain |
| | 21.8. - 4.9.1960 | State Fair Music Hall | Dallas | USA |
| | 6.9. - 12.9.1960 | Geary Theater | San Francisco | USA |
| | 15.10. -22.10.1960 | Shubert Theater | Detroit | USA |
| | 25.10.1960 | O'Keefe Center | Toronto | Canada |
| | 31.9. - 5.10.1960 | Her Majesty's Theater | Montreal | Canada |
| | 14.11. - 4.12.1960 | Riviera Club | Las Vegas | USA |
Go to Part 2: *1961 - 1970*
Go to Part 3: *1971 - 1975*

---
created by UL! fright.night; January'97/ update February 2004