Quick review
"Real cool, the things you whites can do"
Afro-American convict to a white criminal, sitting at the controls of a plane. [Quote translated back from German.]
Con Air
USA, 1997, 109mins
Director: Simon West
Cast: Nicholas Cage, John Cusack, John Malkovich, Steve Buscemi, Colm Meaney, Ving Rhames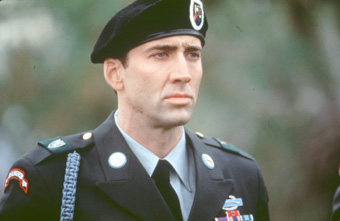 After eight years in prison, the much-decorated National Ranger Cameron Poe is on his way home. He had once defended himself and his heavily pregnant wife from a bunch of hooligans, fatally injuring one of them. Now, along with his cellmate and friend Baby-O, Poe is on a very special flight: a new high security prison is to be opened, and the scum of the American system to be transferred there. The worst cases are locked in individual cages.
But this is to no avail, as the intellectual Cyrus "The Virus" Grissom joins forces with the highly militant Diamond Dog, and together they take control of the plane – and, at first, the ground crew have no idea what's going on. When the plane stops to take on new prisoners, Cameron Poe has the chance to disembark into the secure arms of his family. But duty and honour prevent him from getting away from the activities of the convicts. Instead, he prefers to help his buddy Baby-O, who desperately needs an insulin injection, and to save the female guard Bishop from a certain gang rape.
And so the madness takes its course...
Con Air – a large-scale action-packed hit with a catchy title, which will have success at the box office. There can be no fan of spectacular explosions and of the new cult actors Steve Buscemi and Danny Trejo (the latter having been seen in Desperado and From Dusk to Dawn) who will want to miss out on this flight, especially since the last potential disaster flight, Turbulence, did not quite come up to expectation. This time the storyline is a variation, not a copy, of other similar storylines, and so ought to fulfil the demands of its audiences.

Good and evil in Con Air are painted different shades of grey; so we discover that, even before the incident that led to his imprisonment, Cameron had problems with his testosterone levels, although his selflessness with regard to the well-being of his diabetic friend and of the threatened guard are laid on a bit thick. But the latter does not quite fit the cliché of a damsel in distress: she does not tolerate being called "Lady", after all, this is no Disney film. The hard-liner from the Drug Enforcement Agency, Malloy wonderfully unsympathetically played by Colm "Miles O'Brien" Meaney, is even allowed to develop positively during the course of the film. And audiences find it positive, when for some of the criminals the hour doesn't come at the showdown.

One disadvantage of Con Air might be the way most actions scenes are cut. The film shows off its destruction sequences, but then they are cut to destruction themselves. Fireballs, screeching metal and showers of sparks are thrown at the audience, who cannot usually make out what exactly has gone wrong– too-close close-ups are also partly responsible. Civilians, however, remain unscathed: even when the plane makes an emergency landing on a Las Vegas boulevard, bystanders are able to leap aside in the nick of time. And so Con Air loses its disaster character, although the film does not necessarily think much of political correctness otherwise.
ki, Berlin
translation: andrew
Foto ©: Touchstone Pictures im Verleih der Buena Vista International.
Win! Win! Win!
copyright: Queer View, 12. Juni 1997